RE-WIRING OF ELECTRICAL PANELS
NEW WIRING TO PORT SIDE ELECTRICAL PANEL
NEW WIRING TO STARBOARD SIDE SIMILAR
OLD WIRING TO STARBOARD SIDE ELECTRICAL PANEL
OLD WIRING TO PORT SIDE WAS SIMILAR - PRIOR TO REWIRING
______________________________________________________________________________
STANCHIONS
OLD ALUMINIUM STANCHION BASES ROTTED OUT
I checked the stanchion bases in 2011 and found that several had rotted away.
Stainless steel and aluminium do not go well together.
I bought a complete set of new bases directly from Fountaine Pajot and replaced the lot.
The base of the stainless steel stanchion was coated with Tef Gel corrosion barrier (every boat should have some) to separate the stainless steel from the aluminium.
___________________________________________________________________________
NEW DINGHY DAVITS
KNEE BRACE BEING FITTED TO NEW DINGHY DAVIT IN TURKEY
The new stainless steel davits are a larger diameter with a thicker wall thickness. The knee brace was added to move the location of the "bending moment" further out and effectively lessen the cantilever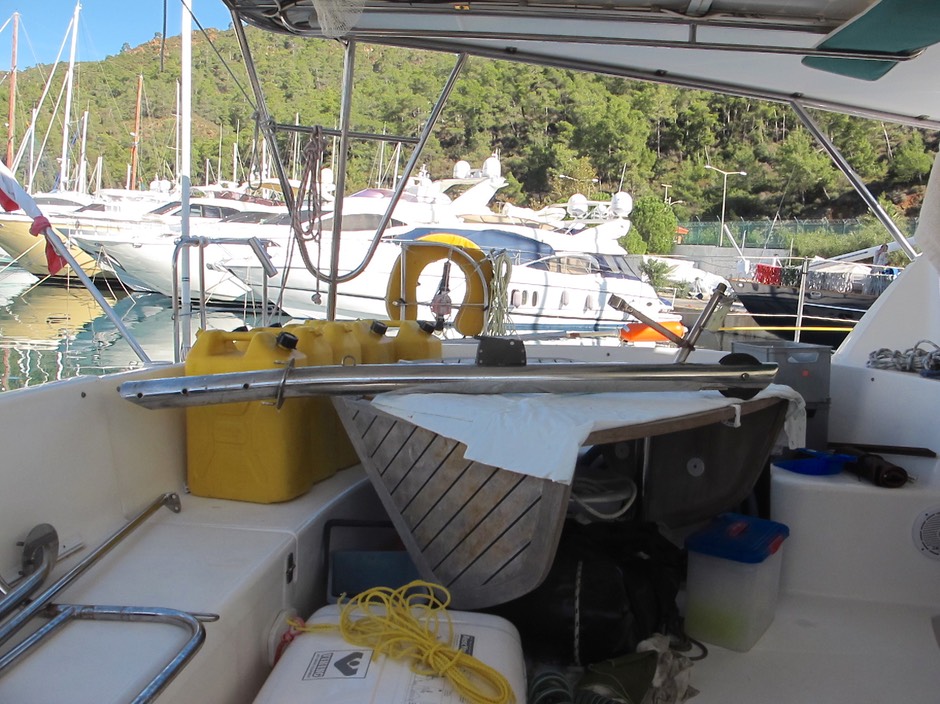 OLD BENT DINGHY DAVIT